Our newest project, the Cardinal Mazombwe Agricultural and Life Skills Centre, allows about 40 orphans from 10 to 21 years old to grow their own crops. Cardinal Mazombwe was the inspiration for this farm.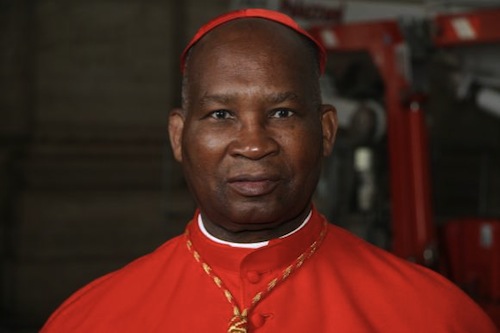 His Eminance Cardinal Medardo Mazombwe (1931-2013)
Medardo Mazombwe spent his 53 years of priesthood serving the Church and the poor as a teacher at the primary and secondary school levels. He became a great promoter of education and health studies as a means of reducing poverty. He created several schools and universities, including the Catholic University of Eastern Africa in 1984. He also helped the Daughters of the Immaculate Mary build the Catholic University in Lusaka and the National Catholic University on Zambia's Copperbelt.
As Archbishop of Lusaka between 1996 and 2006, Mazombwe established several health and medical education projects in rural areas, including a Mission Hospital and Nursing School in the area's Mpanshya Chiefdom. Because of the many orphans of AIDS in that area, he negotiated with Chief Mpanshya for 200 acres of prime land near the hospital and nursing school to be used for a "settlement" to house and care for the many, and ever growing number of HIV orphans, as well as very many needy youths between the ages of 10 to 23 years. The orphans lived at the settlement and grew vegetables and maize to eat and sell in order to earn money to put themselves through school. A matron lived at the farm to care for the young residents, while the nearest Catholic parish provided staff to supervise the work. The Mpanshya Farm was born!
In 2014, Archbishop Mpundu of Lusaka and the Zambia Orphans Aid (ZOA) renamed the facility the "Cardinal Mazombwe Agricultural and Life Skills Centre." The Center had already fulfilled Cardinal Mazombwe's objective by empowering the young orphans through education to become self sufficient and prosper. Since the Center's creation, over 150 orphans from the farm moved on to become teachers, priests, nurses, and secretaries; and others have developed skills to improve the farm's productivity.
Our St. Peter Claver Society (SPCS) took on the farm as a charity project in 2014, initially building an extension of the farm's pigsty, and providing numerous piglets. SPCS also improved the children's living conditions by paying for much needed windows, doors and beds. In 2016, SPCS began providing education grants to worthy students for their post high school educations. The SPCS' recent July 10th special second collection at St. John's brought in enough money to support four youths for their first year of college. In Zambia, it is estimated that a college graduate is generally able to support five to six siblings and grandparents.
Before he died, the Cardinal imparted to SPCS co-founder Shimwaayi Muntemba that he wanted to build an agricultural training center on this vast farm. He envisioned a training center that would prepare young people for rural agricultural activities, thereby avoiding urban unemployment.
In memory of our late SPCS colleague, Jay LaMonica, who had visited the farm and was one of its strongest proponents, the SPCS is designating all donations made in Jay's honor toward the building of the training center of Cardinal Mazombwe's dream.