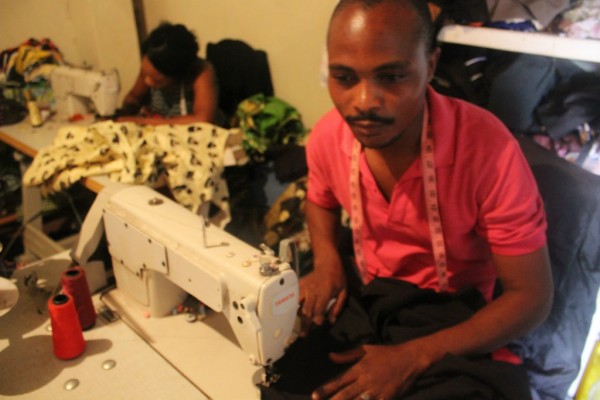 Winfred Musenga graduated from Mulele Mwana Tailoring School in 2008. He was later employed by a Nigerian who owned a shop called DEKA CHE Fashion. He later resigned and joined Evet Fashion Designs at Arcades Shopping mall in Lusaka "And that was my last place to be employed by someone!
In April 2013 I started my own fashion shop with a domestic machine, with the help of the St. Peter Claver Society.  After three months, I managed to buy another extra industrial and domestic over locking machine. I started my business with a working capital of K3000, and because I had too many orders from my clients, I decided to buy (4) extra machines with the help from the St. Peter Claver Society. I later employed three workers so that they can help me.
I have passion towards tailoring and am willing to share my skills to the young ones or anyone who is fresh from school. The four workers I have are fresh from school; I have 3 ladies and one man. I give my workers K700 per Month and the highest gets K1, 200"
Winfred targets anyone who wants his services. He and his team are able to make wedding dresses, uniforms, ladies and men's suits.
"My charge goes according to the pattern, "Winfred proudly explains.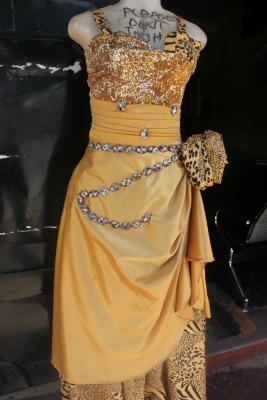 "A simple dress costs K130, a complicated one is K300, wedding dresses cost K700 just for labour, ladies suits we charge k150 and for Men its k400. My future plans. I am thinking of having my own factory so that I can contribute to the job creation of our country. I also want to help orphans and vulnerable children (OVC).
Between September and October , I am thinking of having a fashion show so that we can advertise ourselves.
I thank the St. Peter Claver Society for the support that they have rendered to me. May my God pour showers of blessings to you all, without them I wouldn't have been am today. Thank you very much once again!"